What are YOU looking at?
Today we had Irish Times booked in on our Adtrikes for some engaging outdoor advertising in Dublin. Our job was to promote Irish Times in Dublin in a fun and effective manner. Our promotional staff were briefed on the campaign details and were able to engage with their target audience on a face to face level.
—
Date: 19th & 20th June
Cycle: 13
Media Used: 2 Adtrikes
Location: Dublin
Campaign Objectives: To promote Irish Times Digital Subscription – Father's Day message.
Targeted Area's: 
Dublin South City Centre – strong emphasis on St. Stephen's Green/Grafton Street Area.
Route Map: http://goo.gl/maps/vtpPX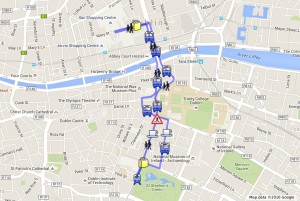 If you're wondering or searching – "how to promote my business in Dublin?" – our Promobikes and Adtrikes are a cost efficient and effective promotional tool. The use of advertising bikes as part of a localised marketing campaign has proven success. Our promotional staff are briefed prior to each campaign day and can hand out branded merchandise and other promotional material free of charge.
For more information on our Adtrikes, Promobikes or any of our other promotional products please contact info@promogroup.ie